Providing a Leading-Edge Training Hub with Next Level Solutions
For Demonstrating Limitless Potential in New
Definition Leadership

Coaching and Mentoring - The Leadership Challenge for Westminster, Belgravia, Pimlico, Knightsbridge, St. James's

As an inspirational speaker, corporate business coach and executive life coach, Gina Gardiner works with emergent, middle and senior managers, as well as their teams and even partners outside of work, to help individuals fulfil their on-going personal and professional development.

Whether it's to develop confidence, leadership, or inspiring individuals to see themselves as the solution, Gina's 30 years of experience as a qualified mentor and coach has shown her that with the right perspective on life, there are ways and means of achieving your goals.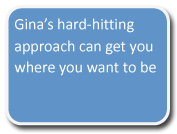 Practical and Powerful
Delivering a practical, jargon free approach, Gina's empowering techniques, gained from her experience as a Master Practitioner in Neuro Linguistic Programming (NLP), are guaranteed to leave you excited by what she has to say and, ultimately, better equipped to face any challenges your life may throw at you.

Specialising in all areas of effective leadership and management, Gina's experiences have taught her to look at the bigger picture, which is the reason she discovered the need for her organisations Graduate Solutions and Recovering Workaholics. As an inspirational author, Gina has also introduced two exciting books to the self-help scene; Kick Start Your Career and How You Can Manage Your Staff More Effectively. Kick Start Your Career is a stimulating guide book aimed at graduates entering the world of business and How You Can Manage Your Staff More Effectively has become a fundamental life-line for all business leaders.

Gina's coaching, speeches, workshops and training programmes vary depending on the needs of the individual or organisation. If you are interested in maximising your potential and leading a healthier, more successful life both at work and at home, make a start now with a FREE 15 minute initial consultation with Gina.